Guest Post by
Mamacheaps
!!! We took Baby A, too, and I am not as together as my sister to write such an amazingly comprehensive review, so my friends, grab your coffee and enjoy!
We had a great time at Healthy Kids Day! This COMPLETELY FREE event was held at the Mann Music Center in the Fairmount Park section of Philadelphia. Sponsored by
Children's Hospital of Philadelphia
(CHOP) and a myriad of other generous companies, every single thing at this event was free. Parking was free, lunch and snacks were free, the ton of activities were free: face painting, games, rides, balloon animals, character meet and greets and more. There was a free concert by
Hip Hop Harry
and the
Laurie Berkner Band
(we LOVE Laurie!). CHOP had a huge tent set up with tables full of helpful information on everything from promoting literacy in kids to treating childhood asthma. They were handing out all sorts of goodies for the kids: everything from water bottles and sippy cups to bicycle helmets (again, all free).
We arrived at the Mann Music Center just after noon and stood in line for a bit to get our concert tickets. We were ready for some Healthy Kids Day fun!
local weather
before leaving home (which forecasted showers LATE AFTERNOON into the EVENING) we noticed that the sky was getting rather dark. Gigantic, billowy clouds (not unlike those in the movie
The Perfect Storm
) looked like they were swirling in our exact location.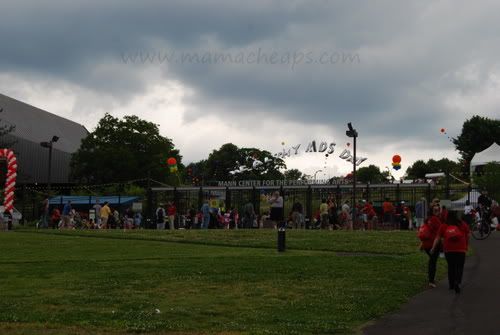 Within about 10 minutes our view of the Philadelphia skyline went from this:
To this:
Good call, Philly weather forecasters!
A brief, but powerful downfall ensued. There wasn't much shelter where we were, so we covered Lily Bean the best we could and waited it out. As the rain subsided, we were left with a cloudy, on again off again spritz and air so thick with humidity I kept forgetting that I was
not
in the Amazon.
We forged ahead and saw that there was a character meet and greet up ahead. Great! Lily Bean usually LOVES anything in costume- in fact, before the sudden downpour she had energetically high-fived the large, furry
Kixx mascot
.
The two characters up for picture opps were Princess Jasmine from Aladdin and Spiderman. Well. No-Nap-Lily-Bean took one look at Spiderman and FREAKED!!! In fact, this was the best picture I was able to get of her and Princess Jasmine. Note: shifty sideways glare towards Spiderman to make sure he was staying far away from her. LOL
Tears were immediately forgotten when we found this gem: There's a Party in Our City Yo Gabba Gabba Tour is coming!! (Yep, guess where we'll be on 8/29/10?)
We made it to the top of the hill and turned to see quite possibly one of the best Philly skyline views in the city (are you noticing the ever-present Ghostbusters-like swirly cloud madness?):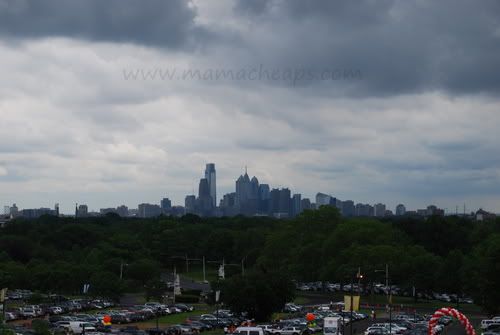 We checked out a couple of the exhibits before picking up our free lunch provided by the folks at Aramark. There were tons of exhibitors with tables to explore- like the Philadelphia Zoo!
After lunch we made our way to the amphitheater for the concert! True story: Lily Bean and I both have hair that reflects how much humidity is in the air.
My hair begins to resemble a Chia Pet: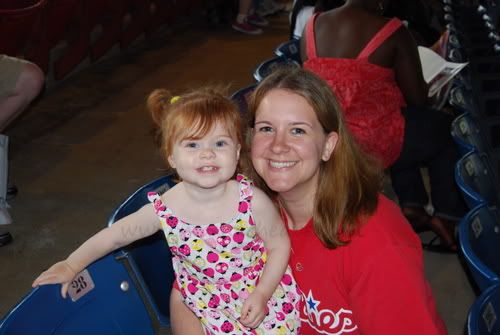 Hers erupts into a luscious sea of curls. I daresay I got the short end of the stick on that deal.
The show began! The first act was
Hip Hop Harry
. Ermm. I want to find something nice to say about him. Really I do. I can't. It was LOUD and obnoxious. And made me feel old. But the kids sure dug him!
Little Hip-Hopper:
Philly weather forecasters
- NICE call… NOT!!
And then it was time at last to listen to
Laurie Berkner
! Lily Bean just loves her and honestly, her music is some of the only kids' music that I can stand.
And there you have it- Healthy Kids Day was a real success, despite the sporadic downpours and the musical stylings of Hip Hop Harry. The crowd was HUGE and sometimes the lines for different activities were long, but overall we felt that it was very well organized. MANY volunteers were on hand and the event could not have been as successful without them. Families were able to take home tons of useful information on all sorts of kid related topics. Best of all, it was FREE!
p.s. It's 10:13 p.m. and has yet to rain a lick this evening. Awesome.